AN INTERACTIVE ONLINE WORKSHOP & SINGALONG,
brought to you by the Fear of Singing Breakthrough Program!
SORRY YOU MISSED THE LIVE WORKSHOP on Tuesday, May 8th!




We are editing the REPLAY now and it will be for sale soon.




REGISTER BELOW AND WE'LL EMAIL YOU AS SOON AS IT'S READY…



Claim your birthright, and step into the joy of singing! Whether you're a "non-singer" who wishes you could sing, or a more experienced singer who would like to delve deeper into the magic of your own voice, this short workshop will get you started!
If you can talk you can sing! — yes, EVEN YOU!!

Learn in a way that's supportive, comfortable & fun

Discover or re-discover your unique voice

Feel the sound of your own voice in a whole new way

Experience the profound joy of singing in a supportive group

Become more confident – experience some singing success!

Empower yourself by doing things you didn't think you could!

Take home new skills & tools to continue the journey!
You'll Learn These Important Basic Skills…
1. MINDSET & VISUALIZATION:
Learn the power of LOVE > FEAR, so you can GIVE YOURSELF PERMISSION TO SING.
Discover the power of visualization to help you sing in tune.
2. BREATHING FOR SINGING:
Start connecting your breath, body and movement to your VOICE.
3. The TEENIEST bit of MUSIC THEORY:
Learn some very basic concepts to help you understand and visualize what you're singing.
This will make singing less mysterious and more accessible.
AND … we'll sing songs together so you can start applying what you've learned right away!
All in a supportive, non-judgmental way so you can freely experience the JOY of singing!
What people are saying about workshops, lessons, and our online membership program, the "Fearless Singers Playground"…
"I really surprised myself, in many ways. I had a wonderful time and came away with more confidence than I felt possible!"


– A Workshop Participant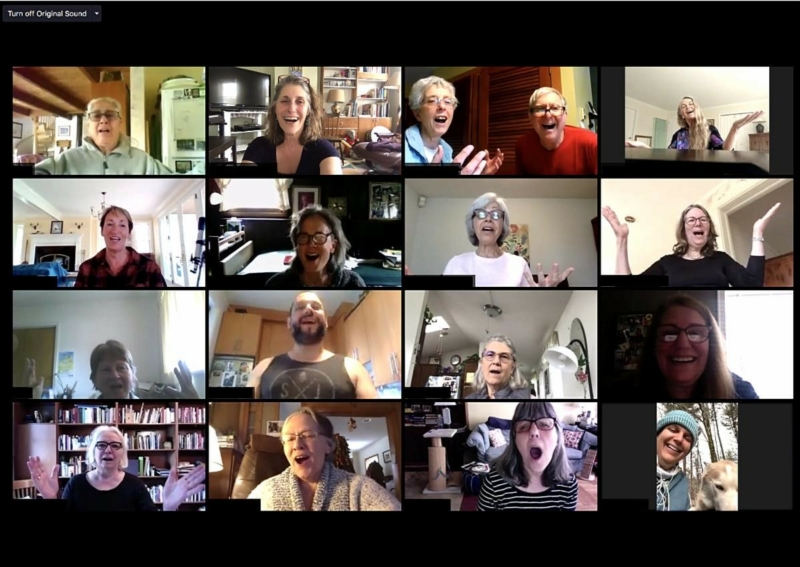 Singing our hearts out — on Zoom!
"Watching not only my own progress but the transformation of other members in the group brought tears of wonder to my eyes several times throughout the day."
— Karen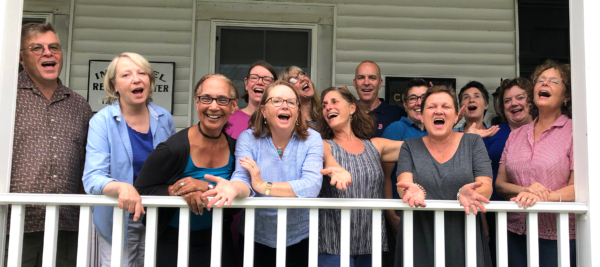 "I wanted to increase confidence in my own singing voice. Nancy used so many techniques, approaches, which made me feel at ease and gave me an 'I CAN' feeling."
— Bonnie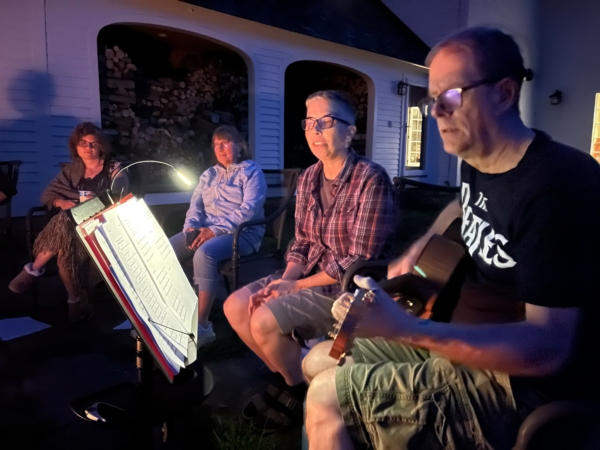 So many of my students come to me saying they wish they could just sing around the campfire. Your time has come!
"Nancy's like a life coach who uses singing as her modality."
— April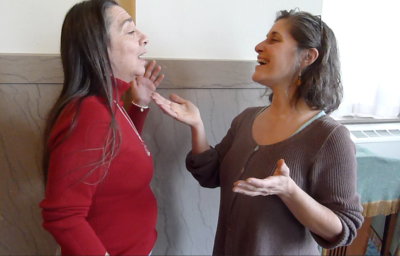 "The lessons were definitely helpful in getting to understand some of the physical and emotional barriers that prevent me from singing and I learned some great tools from you on how to address the barriers. Singing is such a joy!"
– Becka, Private Skype Student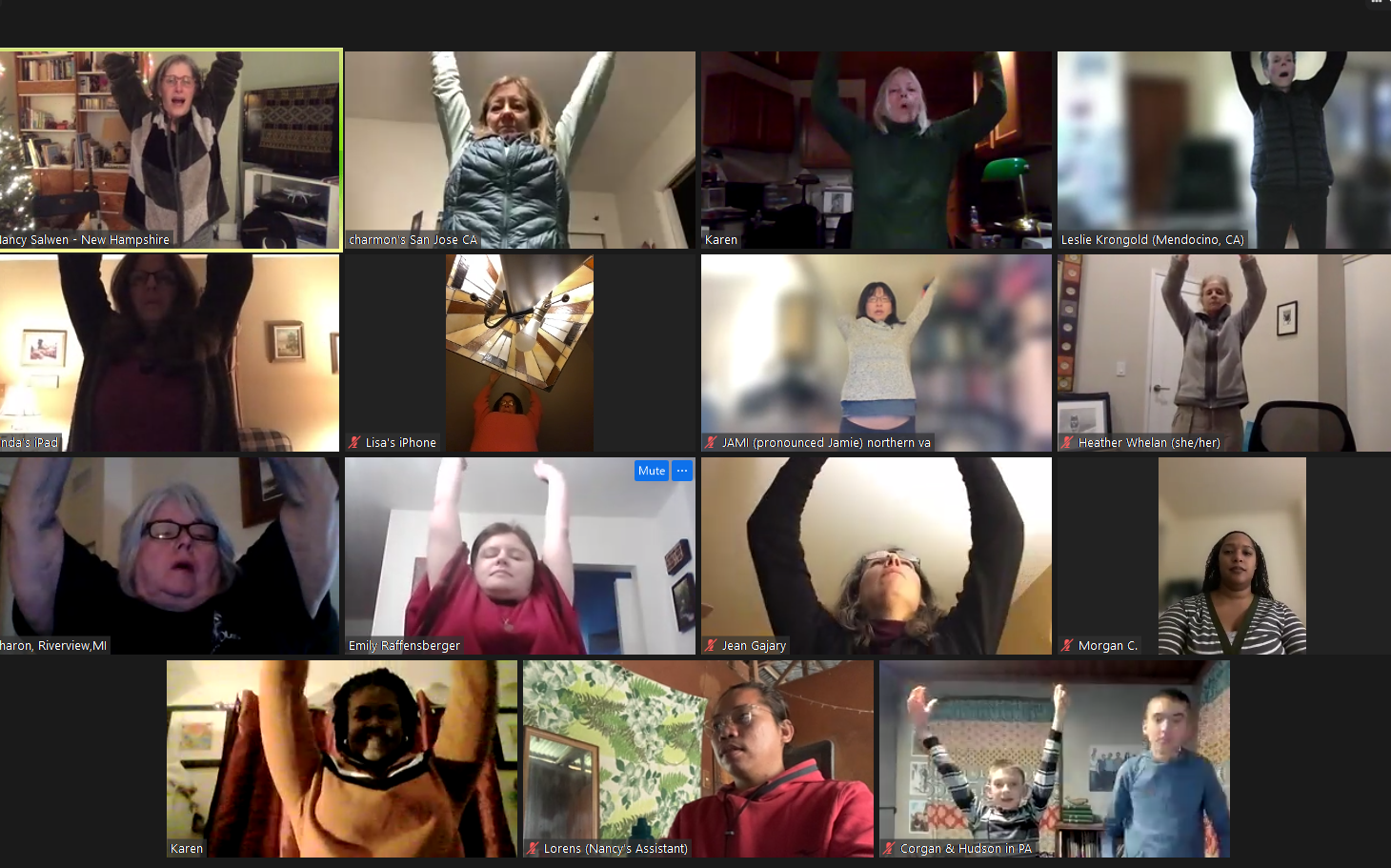 Vocal warm-ups on Zoom — we're still very much together…
"I just want to let you know how much I am enjoying the singing lessons. I haven't had this much pure fun since I was in the third grade. It really is liberating for an old codger like me to just cut loose and make joyful noise like I did back then."
– Brian, Adult Singing Student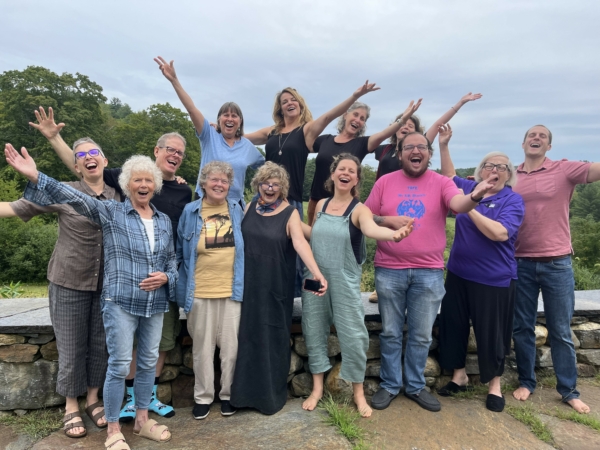 The joy of singing together!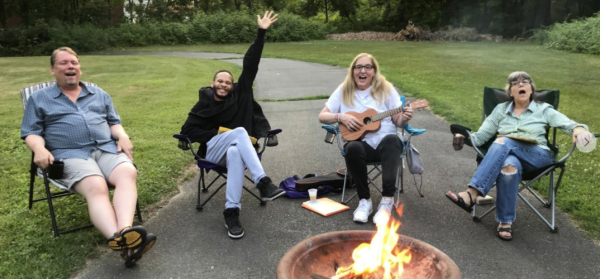 "I no longer consider myself a "non-singer"!