A big thank-you to to all my students and workshop participants, because I LOVE being a singing teacher more than any of you may realize. That I can spend my days teaching people to sing is a kind of miracle to me, and you make it possible!
THE SHORT STORY:
I grew up in Manhattan and loved to sing, and sang all the time. There was no shortage in my town of opportunities to hear live music in small intimate venues and to participate in group singing situations. My mom saw that I loved to sing and took me to folk festivals and peace marches (this was the 1960s) and kept percussion instruments on top of the piano. Singing felt very natural and easy for me.
Then I tried performing…
…And I was unexpectedly slammed with stage fright. Suddenly I couldn't sing in tune, remember the words to my song, or even catch my breath. "This is not for me," I decided. I kept singing, but only in workshops and classes and with a few friends, and by myself. No more performing, and certainly no career in music! That was a thought that never even crossed my mind.
If you want to hear about the transition to "Where I'm At Now", you'll need to read the LONG STORY, below…
The short version is that because I suffered from bad stage fright that stopped me in my musical tracks, I understand how fear gets in the way of our ability to think straight, to sing, to listen, and to learn. And I teach differently because of it.
I understand that singing is a extraordinarily personal act which makes us vulnerable in a way that is unlike anything else. I know that for many of us singing comes with a ton of baggage and that just to open our mouths and let out sound in front of someone else can take a ton of courage.
As a singing teacher, I know that fear is a giant obstacle and can't be ignored. It has to be sensitively explored, worked with and worked around. I have devised gentle methods of dismantling your singing fear, so that your mind can relax and open. Every student comes to me with a different story, background, and set of strengths and challenges, so we develop a "safe" relationship and work intuitively to get you to your personal singing goals.
From a non-judgemental place of play, joy, and discovery you can (literally) tune in differently. Now you can compare and contrast what you're hearing to the sounds you are making with your voice. You can feel the vibration of your voice in a new way and use it to help you learn. You can employ your different learning styles to help you as you go along. You can really start learning how to sing (no matter what your fourth grade music teacher, or your cousin may have told you) — and it's fun!
Also, I'm married, have two kids — young adults, actually — and I've lived in Keene New Hampshire since I was about 20.
THE THIRD PERSON STORY 
Nancy is a long-time resident of Keene, NH, she has sung with Animaterra, Halcyon ensemble, Keene World Harmony Chorus, and attends Village Harmony singing camps. She is a lead singer in a small local band called Crabgrass (despite a bit of lingering stage fright). Her love of community singing informs all of her teaching.

Nancy teaches singing to "non-singers," beginners and anyone who wants to sing more comfortably and expressively. She is the author of the book (and online program), "The Fear of Singing Breakthrough Program: Learn to Sing Even if You Think You Can't Carry a Tune!" She leads workshops, offers online programs, and teaches lessons in-person and over Skype (or FaceTime).
Nancy is a certified Music for People improvisation facilitator and workshop leader. She is also a center director and educator with Music Together®, the renowned early childhood family music and movement program, and teaches early childhood music programs in a variety of schools. In addition, she leads music-based workshops for team building, staff development, and personal growth for businesses and organizations.
THE LONG STORY:
I grew up in Manhattan and was raised by political lefties, and so naturally there was a lot of singing of folksongs in my life. I always loved to sing — it was both a joy and a coping mechanism that helped me deal with stress in general, and the stress of living in a very big, busy, and unsafe safe city as well.
Of particular importance for me was a class I took with the pioneering folklorist, Ethel Raim in Balkan singing. I loved the intimate experience of singing songs in a small group that didn't sound like anything I'd ever heard before — songs that evoked a different time and place, and that used vibrational dissonance. The harmonies we sang were both unfamiliar and deeply moving for me, as if they'd been sung to me in my dreams.
Although I was passionate about singing, it became an almost private hobby. Because of my own Fear of Singing (based on one unfortunate incident when I experienced unexpected and overwhelming stagefright) I only sang when taking workshops or classes, with a few select friends, and by myself. Although I sang constantly while walking down the streets of NYC, waiting for the subway, waiting for my best friend in her lobby, etc., if the idea of performing was even whispered, I counted myself out. I certainly never entertained the idea that I might somehow be able to make my livelihood by singing.  
OK, so. I moved to Keene, NH when I was about 20. Became an art major at Keene State College and focused on sculpture and printmaking.  Met my husband in my early thirties. Became a jeweler and then a graphic designer. (Went the ART route instead of the MUSIC route.) Had my first child at 36. A few months later uttered the fateful words, "This is all perfect, except that I'm not singing."
The path from there: Found and joined some people who were getting together casually every week to to sing in their living rooms; joined a local, low-pressure 50-person women's chorus; after 5 years, finally stepped out and sang a solo/duet with same chorus and then I did it again; joined a smaller ensemble where there were fewer people to hide behind; went to a 10-day multi-cultural "Village Harmony" singing camp which blew my socks off and on the drive home said to myself, "Well, I have to change my life now."
So, how to change my life? How to become a song leader despite my stage fright? Step by step…
1. Taught songs I loved to friends in my living room.
2. Joined the world renowned Music Together where I began my training as an early childhood music educator. This was easy for me, and clearly a perfect match. In this context I could sing and lead songs in public with no stage fright!
3. When a friend asked me to give her singing lessons, I said yes! Started giving lessons in person and via Skype to people all over the world.
4. Creating workshops was a natural next step, and again I had the feeling that I'd found my calling. I now give workshops at least monthly, mostly in New York City, New England and the California Bay Area.
5. Continued my training with an organization called Music for People, and attended their 4-year musicianship and leadership program. Graduated as a certified music improvisation facilitator and now lead workshops using voice and mixed instruments, for people of all levels of musical experience (professional musicians along with people who have no musical experience at all) playing together. The coolest!
6. Wrote a book called The Fear of Singing Breakthrough Program: Learn to Sing Even if You Think You Can't Carry a Tune! Started it thinking it would be a 3-month project. It quickly took on a life of it's own and clearly needed to have an online component with audio tracks and videos. It took 5 years to complete. But now it's out there, speaking for me, and that feels very good.
7. Now I'm doing what I love, and always excited to see where it takes me next!
8. Now it's your turn — email me or post on my Facebook page to tell me about your singing story. I'd love to hear all about it!
Get the Fear of Singing Book! 

Includes Online Audio Tracks & Videos.
Look for it at your local bookstore or Buy it on Amazon!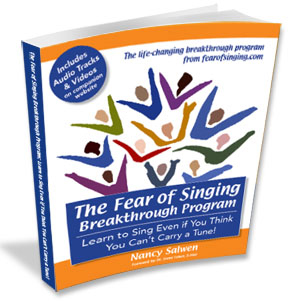 With life-long certainty I told Nancy I was tone-deaf
and within two minutes she had me matching a note she was singing. I was amazed and a little bit giddy!
I thought I'd have to die and be reborn to do this!
Thank you so much for our singing session. That was something I will never forget. Until recently I would never have done that. ? It's all about growing. You are doing such great things for others with your gift. Thank you for sharing.
I knew nothing about singing but I have found that I can do this. It feels so good to sing with other humans.
Not quite ready to jump into lessons?

Get your free copy of "6 Easy & Fun Tips for 'Non-Singers' Who Wish They Could Sing" and start singing now!

After you sign up,

CHECK YOUR EMAIL!
Event Schedule
(in-person and online)
Got questions?
Email Nancy or call 603-721-1492
• • • • • •
2 FREE Sing-Alongs — Live on Zoom
Thursday, March 30 at Noon EST
or Thursday, March 30 at 8:30pm EST
Register Here!
• • • • • •
Friday – Sunday, September 8-10, 2023
4 pm Friday through 2 pm Sunday
An In-Person Weekend Retreat Workshop…
From Fear to Joy:
Discover (or Re-Discover) Your Inner Singer!
Register Now or Learn More!
• • • • • •
For Weekly Sing-Alongs & Mini-Workshops…
JOIN the FEARLESS SINGERS PLAYGROUND!
Learn all about it HERE!
• • • • • •
ONGOING
Early Childhood Music & Movement Class
for kids aged 0-7 and the grownups who love them
Online & In-Person
Click here to learn more!

What People Are Saying —

"I just want to let you know how much I am enjoying the singing lessons. I haven't had this much pure fun since I was in the third grade. It really is liberating for an old codger like me to just cut loose and make joyful noise like I did back then."
– Brian, Adult Singing Student
"As a private lesson student with Nancy, with a lot of fear of singing, I found after just one session my confidence grow. I attended a birthday party, and when the candles on the cake were lit, I immediately led the crowd in singing "Happy Birthday"! You have no idea what a big step this was for me!"
– Melanie, Workshop Participant and Private Student
"My mother, Charmian, called me this morning pretty euphoric. She said that she "finally felt free". That she'd thought all her life that she was only capable of making a croaking sound but, instead, had heard herself sing one high note and one note in the middle that was really a tone. She's always had fifth chakra issues, sore throats, laryngitis, power speaking, etc. This week, when she goes to her meditation meeting, she'll join in the 'oohming' part for the first time.

She said that the workshop 'changed her life' after 94 years of being shut down/out.

This was an enormous breakthrough for her. Your program was so well structured and led with such enthusiasm and joy. Congratulations to you. What a gift for everyone there." With gratitude,"
– Cathy (Daughter of 94 year old workshop participant!)
"The lessons made me feel a lot more comfortable with my voice, and singing in front of people. Also, I think that I'm better at staying on pitch, and getting the pitch right the first time. Plus lessons were just a lot of fun! I really enjoyed them! Thank you again. Hope to see you next summer!"
– Ruth, Teenage Singing Student
"It surprised me how easy it was most of the time, to let go and just sing and make sounds. One thing I really like about Nancy's teaching is that she brings a straight forward can-do energy to the group, allowing for fears and nervousness but not focusing on those."
– Workshop Participant