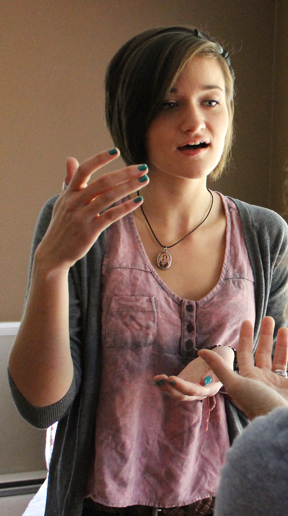 Take in-person private singing lessons or singing lessons with a friend (all on Zoom for now). Call me (Nancy) at 603-357-4693 or Email me. I'm looking forward to hearing from you!
"I wish I could sing, but I know I can't." Is this you? Well, this is your chance! I customize your lessons just for YOU! Every person's goal is different…
Maybe you want to sing in a chorus, to sing with friends, to be more comfortable singing the happy birthday song, or just to enjoy expressing yourself and discovering your voice. You may find that your goals change as your lessons progress. It's often a very intuitive process.
NOTE: You're probably here because singing is at least a little bit scary for you — so I want you to know that I will make this process feel safe and fun for you!
You Will Learn to:
• Breathe in a deep relaxed way to support your voice
• Get past your emotional discomfort, shyness and fear
• Do warm-ups that incorporate stretching and yoga
• Tone, slide and siren with your voice
• Get loose and make crazy noises
• Connect your voice to your feelings – express yourself!
• Sing on pitch and match notes
• Listen and sing at the same time
• Approach learning a song in a logical, de-mystified way
• Sing simple harmonies with other people
• Sing rhythm patterns and sing using a variety of rhythms
• Develop your own repertoire of favorite songs
• Find ways to sing with people in your community
A few thoughts about singing on Zoom…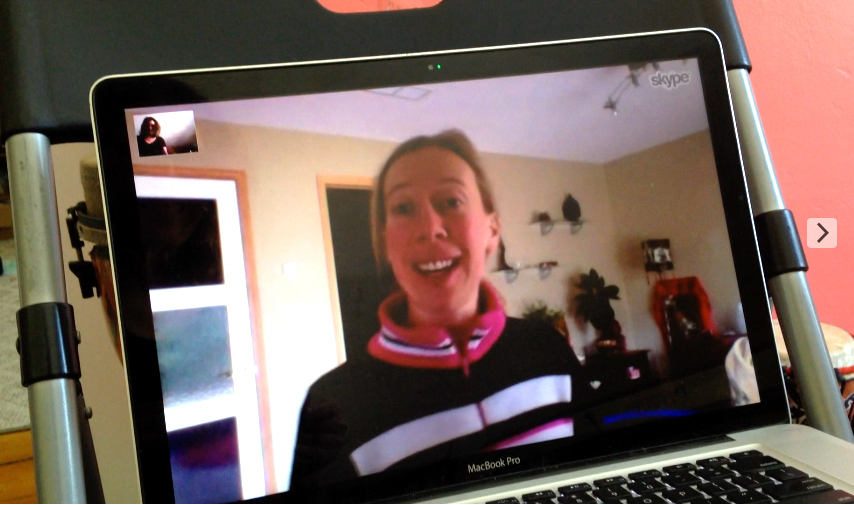 I've been teaching online for about 10 years, and I love it! And now, during the Pandemic, I can't tell you how grateful I am that we can connect this way!
I have worked with students from all around the world  from my sweet little town of Keene, New Hampshire, USA.
Even though it's online, it's still personal. This surprised me at first, but it's true. Even the emotional impact of singing together works on Zoom.
The technology isn't perfect but it's WAY better than just good enough! Online singing lessons have been wonderful and people are achieving their goals even though we can't meet in person — and we're having FUN.
One helpful suggestion is to update your Zoom to the most recent version. When we meet, I'll give you a few specific suggestions about adjusting your audio settings — it's easy!
What People Are Saying…

"I really surprised myself, in many ways. I had a wonderful time and came away with more confidence than I felt possible!"
– A Workshop Participant
"This is so exciting – it's like a miracle to me!"
– A Skype Student
"I never thought I'd be able to sing at all, but with practice and training, I can sing with a group and not shatter glass. It has encouraged me to try anything at least once no matter how much I don't think I could do it."
– Ash, Singing Student
"I absolutely wouldn't have been able to sing in front of people if I hadn't taken lessons with Nancy. Now I sing for the residents at a nursing home. No sweaty palms, no pounding heart, no shaking like a leaf. I'm having so much fun and people are enjoying my singing. I actually get requests!"
– Cathy, Workshop Participant and Singing Student
"The lessons were definitely helpful in getting to understand some of the physical and emotional barriers that prevent me from singing and I learned some great tools from you on how to address the barriers. Singing is such a joy!"
– Becka, Private Skype Student
"After taking a few lessons, I realize that there are a lot of people who are afraid to sing or have trouble with singing, and people will respect you if you try. And this can go for anything. So, why not try?"
– Singing Student
"Nancy has helped me along the journey of bringing what I hear inside my head into the world. She brings a patience and a kindness to her process that focuses on joy and emphasizes the pleasure of singing. She has helped me replace my perceptions of singing failure with success, anxiety with relaxation."
– Chris, Singing Student
"Nancy seems to have an endless basket of teaching tools and they were all enjoyable. I especially liked moving, scatting and adding rhythm making to our singing."
– Workshop Participant
"I think my husband is a little intimidated by my new skills" (…said with a smile)
– Sandy, Skype Singing Student
"I had a really wonderful time during my lesson and it felt good just to sing for fun. In just the last couple of weeks some opportunities have come up that I might normally have passed up. I think I found the fun part of singing again!"
– Grace, Singing Student
Get the Fear of Singing Book! 

Includes Online Audio Tracks & Videos.
Look for it at your local bookstore or Buy it on Amazon!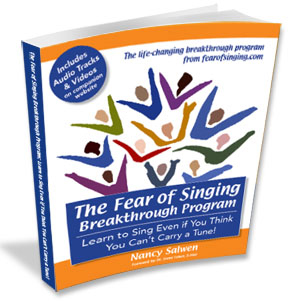 Not quite ready to jump into lessons?

Get your free copy of "6 Easy & Fun Tips for 'Non-Singers' Who Wish They Could Sing" and start singing now!

After you sign up,

CHECK YOUR EMAIL!
Quarantine Special!
FREE

Monthly

LIVE

Online Sing-Alongs!
Days and time vary.
You'll receive the ongoing schedule and Zoom links to join in.
It's lots of fun — I hope you join us!
Event Schedule
(in-person and online)
Got questions?
Email Nancy or call 603-721-1492
• • • • • •
Wednesday, December 13th at 7:00 pm EST
FREE ONLINE SING-ALONG
Register Here!
• • • • • •
For Weekly Sing-Alongs & Mini-Workshops…
JOIN the FEARLESS SINGERS PLAYGROUND!
Learn all about it HERE!
• • • • • •
ONGOING
Early Childhood Music & Movement Class
for kids aged 0-7 and the grownups who love them
Online & In-Person
Click here to learn more!