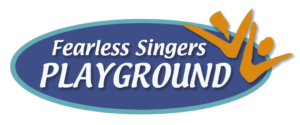 Foundational Skills Lessons:
Key Idea:
Introduce yourself to the basic skills of singing, and get familiar with the language of music to set the stage for success! 
These are simple steps that many "non-singers" and even many experienced singers are never introduced to.
You may find these lessons to be very simple or somewhat tricky, but remember — you probably already knew most of this stuff as a child.
Kids learn singing naturally — and a lot of what we have to do as adults is UNLEARNING — relaxing, and letting go of baggage so that we can sing freely and naturally, the way kids do!
GETTING FAMILIAR WITH THE BASICS GIVES YOU A "SAFE" HOMEBASE FROM WHICH TO CONTINUE LEARNING.