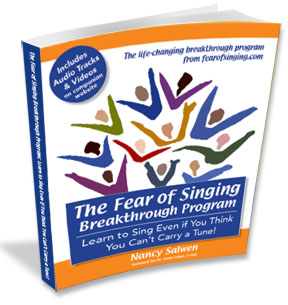 Yes Indeed! For the last 5 years I've work, work, worked on my book, "The Fear of Singing Breakthrough Program: Learn to Sing Even if You Think You Can't Carry a Tune!" and now it is completed, finished, done! I can do other things now (like publicize my book), and I'm feeling freeeeeee! Wheeeee!
You can purchase it on Amazon, while I hang out and practice my banjo, draw pictures, and watch TV. Ha! I am on top of the world!
What's this Book About?
More than just a "how-to" book! With guided reflection, explore and dismantle your fear of singing, and grow as a singer and as an individual.
Audio and video tracks available 24/7. Practice whenever and wherever you like.
User friendly, designed for inexperienced or fearful "non-singers" who have never received singing training or who want to give singing another chance
Quick and simple noise making "icebreaker" exercises are unique ways to dissolve anxiety and help make your new singing journey playful and fun
Dozens of writing, listening, and, of course, singing exercises to help you build confidence and discover your inner singer
Includes a warm-up sheet and practice ideas to keep you going
Ideas for next steps in your singing journey!
Written by ME, a supportive teacher with over 10 years of experience who loves nothing more than helping "non-singers" find their voice!