A few notes from a short, late night visit…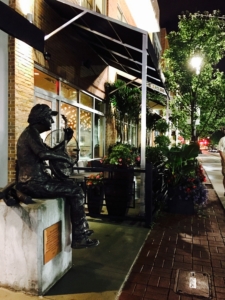 Rolled into Little Rock, Arkansas at about 10:30pm, aiming for the White Water Tavern. Stepped out of the car and nearlly fell over from the humidity. After complaining for the last two weeks about the dry air and what it's been doing to my skin, I'm finally and suddenly appreciating what's meant by the expression, "it's a dry heat."
The bar had a very cool atmosphere, kind of raw, in a friendly, loose, expressionistic kind of way – a country-punk dive – but it was flat out too loud for me. We stayed long enough to hear the introductions to 3 songs and to sort of hear (or feel) the songs themselves. The first was about white supremacy (anti), and the third was about rich exploiters building their empires of wealth on the backs of poor laborers; a white southern band with a radical stance that I appreciated.
I couldn't understand a word of the second song but I know it was awesome.
In the parking lot as we were leaving it occurred to me that we might be scoring a few points, and making up a little for our lack of youth, by having this dirt bike (left over from Jacob's part of the trip) strapped to the back of our Toyota Highlander.

So, since I was concerned that I might lose what remained of my hearing, we left. We then headed for Cajun's Wharf, another place that was totally packed and hopping. The bouncer wasn't as friendly as at the first bar, so we didn't feel like paying the cover fee to go in. The dance band was good but everyone seemed to be under 22 so we just walked around the back, near the river, and watched the band through the window for a few minutes. Good enough.
Next stop: Stickyz. The other bars were on the edge of town.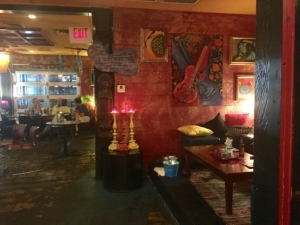 This place was right downtown in the River Market area, which reminded me very distinctly of South Street in Philly. The band had wrapped up and we just missed last call, but this is clearly the coolest looking bar I've ever stepped foot in.
So we we wandered back around the corner and down President Clinton Avenue to Willy D's Piano Bar, where the house band (Ken, Matao and Payton) was playing on 2 back to back baby grands and singing pop standards. They asked for requests and I'd been having a hankering for hours to hear Blind Faith's "Can't Find My Way Home" so we requested that, and it was really funny because the guy had clearly never played it before and basically made up the whole tune on the spot. The next guy to come up and play said, "You just pulled that right out of your ass, didn't you?" But it was all in good spirit. Very nice.
I am honestly stunned: I had no idea how cool Little Rock is. Its a big country and there is so much I don't know about – and it's easy to dismiss. Lesson learned. It's 12:45 now and we've got find a motel. Good night!