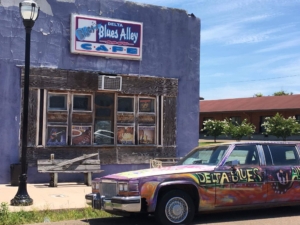 I hadn't, until last week. We were in Amarillo Texas listening to music in a coffee bar and after the set we chatted a little with the musicians. We told them our plans to travel from Amarillo, through Little Rock and on to Memphis, Knoxville, Nashville and Asheville for our homemade music tour, and they told us that we had to stop in Clarksdale.
Birthplace of the Delta Blues
Clarksdale is where Robert Johnson made his legendary deal with the devil, the birthplace of Blues greats Sam Cooke, John Lee Hooker, Son House, and Ike Turner, literally to name just a few. Robert Johnson lived there, as did Muddy Waters. Tennessee Williams lived there as a child and included characters from the town in his plays (sometimes even using their actual names), and Morgan Freeman lived there and currently co-owns The Ground Zero Blues Club there. Read the Wikipedia page about Clarksdale — it's fascinating.
That night in Amarillo as we were googling around about Clarksdale we found Chilly Billy's Delta Bohemian Tours — although we're not usually tour-style travelers, once we'd read about it there was no way we weren't going to do this.
Here's an excerpt from his website:
Those desiring a deeper intimacy with and mindfulness of the "Most Southern Place on Earth" will surely enjoy several hours trekking with an eclectic Dude, acutely familiar with the socio-economic, educational, agricultural, and racial nuances associated with Mississippi Delta culture.
Take a ride with the witty, perspicacious Chilly Billy in his red Jeep Wrangler and you will see and learn things you never dreamed of. He will give you a personal introduction the way it's supposed to be done…..real Delta Bohemian style—relational, full of humor, including the didactic as well as the conversational. He might even get Socratic if you aren't careful!
It was just the three of us in Billy's red jeep. He was smart, friendly and funny, introduced us to his friends (usually proprietors of local businesses) and let us in on the backstories behind what we saw. He drove us to the spot where Muddy Waters lived for 30 years and the shack that was the hospital where Bessie Smith died after a car crash. We visited plantations turned B&B/Blues Clubs, with sharecropper shacks for guest cottages (mixed feelings starting to percolate at this point). He pointed out a front yard where a deadly duel occurred, and talked to us about local politics. The conversation was nuanced and a little political — I may go into that another time, in another post. Bottom line: It's complicated.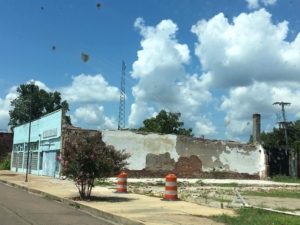 The main reason I'm glad we did his tour as soon as we got to Clarksdale is this: at first glance, at least to my New England eyes, the place is a ghost town. Hardly any cars parked on the main streets; stores looked abandoned; a lot of graffiti; not a lot of people around. In fact, this had been a booming little city on and off until the 1970s, when the mechanization of agriculture (and probably the civil rights movement) led to a mass exodus. So the place is in some ways frozen in time  — that's what hit us first.
But after Billy's tour, we read what we saw a little differently. This is an abandoned building; this is an awesome little harmonica store owned by Deak Harp, who was taken under the wing of James Cotten as a teenager and worked as his manager for years. And look, Deak's right there — we met him on Billy's tour — and he's avnailable to teach a lesson and happy to sell a CD or a harmonica, or just to chat with us for a few minutes.
This is an old clothing store, owned by one of the remaining four Jewish families in town (there used to be enough Jews here to sustain a synagogue, but no longer). This is an abandoned theater, but this, which looks equally abandoned, is a hopping venue during the Juke Joint Festival each April.
Originally a cotton milling plant, a lot of the ginning equipment is still there, poking out of the walls and hanging out of the ceiling. You can see the airplane hanging above the stage here — the whole place is.a mad 3-d collage. Really the coolest looking bar I've ever been in (even beating out Stickyz in Little Rock in my opinion). This is the music venue and bar. The Shack Up is also an Inn, and out back are the sharecropper shacks that are now used as guest houses. (Cringe?) Very cool but confusing… They have a wonderful gallery full of local arts and crafts, and host events and workshops. Popular with tourists and locals.
Without having taken Billy's tour, we wouldn't have known that this huge, empty, battered, graffiti-covered warehouse building with the beat up couches and bar-b-que barrel on the porch, is the blues club co-owned by Morgan Freeman, and voted the #1 Blues Club in the Nation by bestbluesclubs.org. Our first night in town we ate bar-b-que and catfish there, and listened to Deak and his rockin' band. The next night we heard LaLa Craig and her band there — amazing! The place was packed. This is the new place is town, been here just 16 years and almost corporate, by Clarksdale standards. It didn't feel like an example of gentrification to me, but Ground Zero has that aspect to it, for better and worse.
Go To Clarksdale. You Need It. It Needs You.
Coming Soon…
Have You Heard of Clarksdale. Mississippi?
Part 2: The Musicians